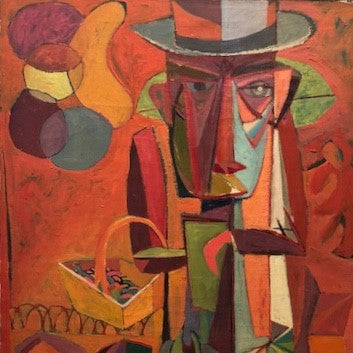 The Artist
Robert Bruce was an artist and a professor at the School of Art at the University of Manitoba. Bruce worked with a variety of styles and mediums, such as, drawing, painting, printing and murals. He dealt with diverse subject matter including the military, landscapes, cityscapes and the human form. His work is distinctive for his use of exaggeration to increase the expressiveness of his subject. Shortly after Bruce's birth in 1911 in Grandview, Manitoba, his family moved to Winnipeg where he later attended the Winnipeg School of Art under L.L. FitzGerald. From 1929 to 1933 he worked as an illustrator for the T. Eaton Company display department. In 1935 he moved to England where he enrolled in the Central School of Art in London where he pursued lithography and depicted scenes of street life and sporting activity. In 1938 and 1939, Bruce studied at the Academie Grande Chaumière in Paris and studied painting in Provence and the south of France.
Upon his return to Winnipeg Bruce worked as an illustrator for the Winnipeg Free Press until 1943 when he enlisted in the Canadian Army. During the Second World War Bruce was employed in Portage la Prairie as a public relations staff artist where he designed victory bond advertisements and created award winning illustrations of Army life, some of which were showcased in an exhibition at the National Gallery of Canada in Ottawa and toured across North America. After being discharged from the Army in 1946, Bruce studied at the Art Students' League in New York, where he met fellow student, lifelong friend and future University of Manitoba art professor George Swinton. Starting in New York City, and continuing throughout his career, Bruce worked as a freelance illustrator for a number of publications including Liberty, Life, Esquire, The New York Times, Harper's, The Reporter, MacLean's, and, starting in the mid-1950s, a number of educational books. In 1949 he moved to Angola, New York where he taught at the Albright School of Art at the University of Buffalo.
In 1955, Bruce and his wife Melba Cumberland, along with their children, Katharine and Robert, moved back to Winnipeg where he worked as a disciplined, demanding and unconventional professor until his retirement in 1976. While working as a professor, Bruce continued to create an extensive amount of fine and commercial art, including several large scale public murals. Throughout his life his artistic work, environmental activism and teaching style were celebrated, but also contentious and controversial. After his retirement Bruce divided his time between his cottage on Falcon Lake in Whiteshell Provincial Park and a home near an artists' enclave in San Miguel de Allende, Mexico. In 1980 Bruce died at his home in San Miguel de Allende. In 2004 the Winnipeg Art Gallery showcased a comprehensive exhibit which presented his multi-faceted work as a professor, environmental activist and artist in numerous mediums.