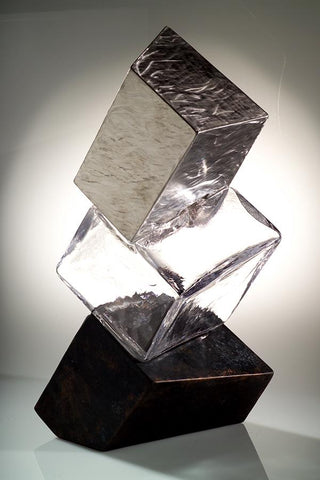 The Artist
Johannes von Stumm is an internationally established sculptor living and working in Oxfordshire, United Kingdom.
Johannes von Stumm's unique combination of three different materials has attracted public and critical acclaim in three decades of successful exhibitions.
His startlingly original sculpture, which engages continually with risk and a defiance of accepted laws, joins metal, stone and glass to create abstract or reduced figurative works in which apparently conflicting materials exist in complex harmony.
Von Stumm's choice of media and instinct for experimentation is rooted in his background, in a childhood spent at the foot of the Alps with long winters, ice and rocks. His love of steel and glass is intertwined with his family history: ancestors on his father1s side were blacksmiths and steel factory owners for 250 years, his mother's ancestors owned a glass factory in Bohemia.
In his "Immaterial Figures" Johannes von Stumm has eliminated the shadows to create figures of light and ultimate transparency, powerful figures which use the negative space to let light into increasingly complex and exciting forms. These works are a logical progression in his continual wish to translate and transform into solid sculpture the transitory effects of light, to de-materialise the image in space.
Johannes studied sculpture at the Akademie der Bildenden Künste, München, Germany. 1995 he moved to Britain, became a Member of the Royal British Society of Sculptors in 1997 and President of the Society from 2009 to 2012.
He is a Founding member of Sculpture Network (Europe) and President of the Oxford Art Society.