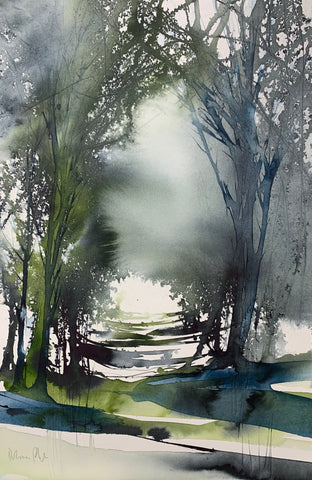 The Artist
Dolores Phelps was born in Hammersmith, London in 1961 to theatrical and bohemian parents and graduated from Kingston University in 1982 with a BA (Hons) in graphic arts and illustration. 
During the 1980s she achieved prominence as an editorial illustrator, working for most of the UK leading magazines such as the Sunday Times, Observer and Radio Times, the Wall Street Journal, Forbes and New York agent Jacqueline Dedell in the US, and for many years was an art and design lecturer at the University of Gloucestershire.
Her watercolour art practice, always a part of her artistic life since childhood, became a fine art practice from 2005 and a professional practice from 2020. It has developed into a mature and sophisticated style that incorporates pigmented ink and gouache with watercolour, that has won her thousands of followers online and a worldwide demand for her techniques to be demonstrated in workshops and classes. 
Dolores Phelps lives and works in the Forest of Dean, Gloucestershire, UK.
"Water is one of the elements, and the 'mysterious force' of gravity is possibly the greatest phenomena of our universe. I am a temporal human being, humbled by the power of these immortal and elemental forces, and I try to let them lead the way in the creation of my paintings".  - Phelps