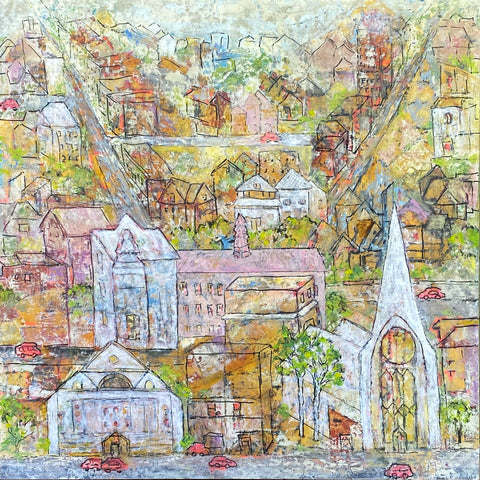 The Artist
Winnipeg and Victoria Beach are the places Jane calls home, each for 6 months of the year. She has studios in each location, one on the Assiniboine River and one by Lake Winnipeg.
The powerful water, calm and turbulent, freezing and melting, teaches her about the seasons of life, death and renewal and these themes are reflected in her work. Animals, insects, birds and trees have things to say, each their own way, mysterious and intriguing. "Daily Diaries" was a project she undertook for a year, completing 4 small paintings of what she observed by the water and nearby land, each time she was in her studio.
Archetypal images and abstraction intrigue her as pathways of connection, and as ways to visually communicate deeper universal understandings.
After completing her B.Sc.HEc., Jane came to her senses and took as many art courses as possible to complete her B.Ed. She has been painting for 30 years and continues to explore new techniques and ideas.
Her art is both large and small, and eclectic, as is the media she uses...oil and cold wax, acrylics, resists, fabric and collage done on paper, canvas, or wood panels.